Rood and Riddle Veterinary Pharmacy provides prescription, non-prescription and compounded medications for top equine athletes and companion animals alike.
We realize how important palatability and convenient administration options are in the care of our patients. Our companion animal compounds are formulated with a variety of flavors and methods of delivery to suit your animal's unique needs.
As part of our commitment to service excellence, Rood and Riddle pharmacists are available for consultation on compounded medications. Our knowledge, integrity, and innovation ensure your animal receives the highest quality products.
Pharmacy Compounding Accreditation Board (PCAB)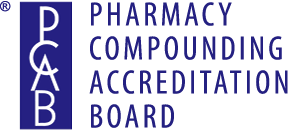 The Pharmacy Compounding Accreditation Board (PCAB) was formed to provide best practice quality standards for compounding pharmacies through a voluntary accreditation program. PCAB assesses those pharmacies that voluntarily apply, and awards the PCAB Seal of Accreditation to those pharmacies that accept the PCAB requirements, meet the criteria, and comply with the Rules and Terms of the PCAB program, including adherence to PCAB Standards. The PCAB Seal of Accreditation provides evidence of adherence to quality standards and to principles of the profession of pharmacy compounding.
In order to demonstrate compliance with PCAB standards and earn PCAB accreditation, pharmacies voluntarily participate in an off-site and on-site evaluation process that includes, but not limited to:
Extensive review of the pharmacy's system for assuring and maintaining staff competency.
A review of facilities and equipment.
A review of records and procedures required to prepare quality compounded medications.
A review of the pharmacy's program for testing compounded preparations.
Verification that the pharmacy uses ingredients from FDA registered and/or licensed sources.
.Pharmacy Verified Websites Program
Rood and Riddle Veterinary Pharmacy has earned the .Pharmacy Verified Websites Program acknowledgement through the National Association of Boards of Pharmacy (NABP).
The .Pharmacy Verified Websites Program application process includes vetting by NABP, prior to approval of domain registration, to ensure that applicants meet all applicable Program Standards, which also address regulatory standards including pharmacy licensure and valid prescription requirements. Applicants must demonstrate licensure in good standing and compliance with the laws of the jurisdiction in which they are based, as well as in all jurisdictions in which they conduct business including, without limitation, dispensing or shipping prescription medications in or to a jurisdiction.
Rood and Riddle Veterinary Pharmacy successfully completed the rigorous verification process by demonstrating the professional operations of the pharmacy, including the maintenance of policies and procedures that protect the veterinarian-client-patient relationship, ensure the appropriate handling of prescription medications, provide appropriate medication information, and ensure quality pharmacy practices are continuously offered to our clients. For more information about the .Pharmacy Verified Websites Program program, please visit the NABP website, www.nabp.net.
By displaying the .Pharmacy Seal, Rood and Riddle Veterinary Pharmacy proudly demonstrates to our clients the pharmacy's strong commitment to high quality pharmacy practices and excellence in pharmaceutical care for your pets.